The economy, the All Blacks and the weather are the holy trinity of conversation in NZ. The boxed trifecta of convivial communication. A tip for any visitor to Aotearoa is to be conversant with at least one of the above topics. And if you are,  Kiwi's will welcome you with open arms and genuine hospitality. But of course talking intelligibly about our economy and our rugby prowess is pretty difficult when you come from the other side of the world.
So your back up position, your fall back must be the weather!
We get a lot of weather in NZ – so it should be an easy conversation to start.
It's as simple and easy as asking, 'so whats the weather forecast?'
Hearts and doors will open – smiles will appear; weathered brows and lined faces will suddenly seem inviting and kind, you will be immediately transformed from a bloody loopey (endearing term preserved for tourists) to a great guy/girl –  a bloody good sort.
New Zealand is series of tiny little Islands tucked away in the South Pacific. Thin and long with a significant mountain range running along its spine New Zealand is a weather forecasters nightmare.
Located in the ocean somewhere between the Tropics and the Antarctic with a huge dry Continental mass to its west, it seems the only time we are not at the mercy of huge air masses is when that bloody frigid Easterly wind blows our singlets and spencers off, blue sky sunny days but a wind that leaves you nude and raw.
Being an agricultural based economy weather plays a quintessential role in our daily lives and landscape; it has weaved itself into our national psyche and the fabric of our culture. It has spun itself into  our architecture, our fashion, our written and spoken words, our music and our art. Weather is the tapestry showcased in the frame of our being.
I believe the kiwi connection and affinity to weather is second to none in all the countries I have ever traveled to. If we are not complaining about the rain, the cold, the wind, we are having a moan about the heat, the drought or grey skies. Two of my favourite poets summed up our relationship with the weather so well
High Country Weather – James K. Baxter
Alone we are born
and die alone;
Yet see the red-gold cirrus
over snow-mountain shine.Upon the upland road
Ride easy, stranger:
Surrender to the sky
Your heart of anger.
Talking of the weather – Sam Hunt
The New Zealand Meteorological Service  is an institution, an institution people love to hate! Even they say –
Mother Nature is a tempestuous animal, and even with the best forecasting team, the most powerful computer models and the latest weather observations, weather forecasts can never be perfect.
Looking back over the last year, the accuracy of the short-term forecasts for temperature is around 81% and for rainfall 85%.
'Useless,' we Kiwi's say! They never get it right!
Tomorrow will be the same – Colin McCahon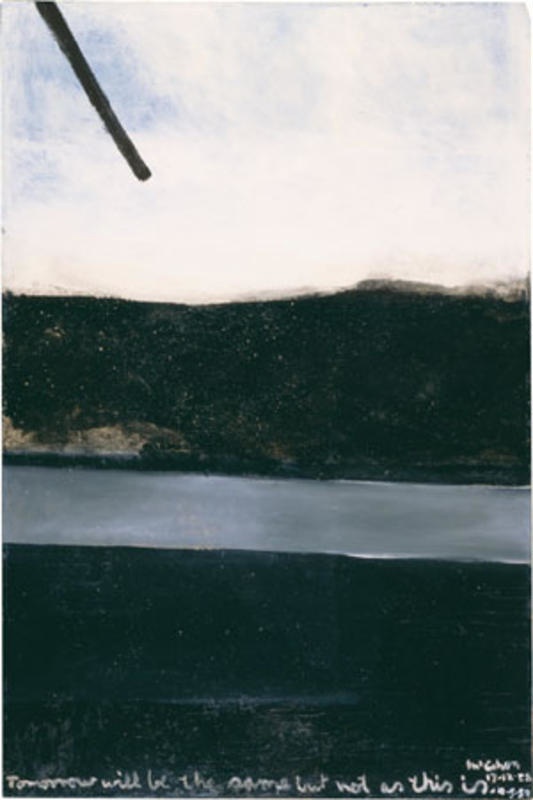 Rain Radar Tasman Sea – NZ Met Service (I've always thought of Weather Maps as worthy works of art)
Unquestionably NZ is beautiful, and so are most of our residents. But the real beauty of NZ is that if you don't like the weather, hold on, because it will probably change in a few hours!
Now, if you are thinking that Kiwi's fascination and our adoration, our total immersion in the weather is a NZ European tick, then think again. A quick study of Maori legend and Waiata (song) reveals that weather is so embedded in pre-european times as Kumara and Hangi – and post-european as pork and puha! Check this out!
Purea nei e te hau
Horoia e te ua


Whitiwhitia e te

ra


Mahea ake nga po

raruraru


Makere a

na nga he

re.

Scattered by the wind
washed by the rain


and

transformed by the sun,
all doubts are swept away


and

all restrains are cast down.
E rere wairua, e rere
Ki nga ao o te rangi
Whitiwhitia e te ra
Mahea ake nga poraruraru
Makere ana nga here,
Makere ana nga here.
Fly O free spirit, fly
to the clouds in the heavens,
transformed by the sun,


with

all doubts swept away


and

all restrains cast down.


Yes,

all restrains are cast down.
And, if you are interested in other Kiwi weather related songs – please check these out great tracks:
Hail – Straightjacket Fits
The summer you never meant – The Exponents
Rain – The Chills
Pink Frost – The Chills
Swimming in the rain – The Chills
Cool me down – The Blackseeds
It was raining – The Verlaines
Weather with you – Crowded House
Rain – Fat Freedy's Drop
I like rain – Jean-Paul Satre Experience
Stormy Weather – Upper Hutt Posse
Shiverman – Fat Freddy's Drop (one of my all time favourites!)
Listening for the weather – Bic Runga
Long White Cloud – Shapeshifter
Summer Haze – Shapeshifter (Instrumental)
All about the weather – Clap Clap Riot
Kia Ora
Roly